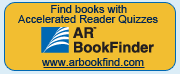 Accelerated Reader Online
Our school uses the Accelerated Reader Program to promote independent reading and track reading comprehension.  The "AR BookFinder" widget below will allow you to view all of the tests that are available for our students to take at school. Enter as "student" or "parent". To view the list of quizzes that have matching books in our library, type in the following keycode in the upper left-hand corner of the page: YO368434. The word "YES" will be in red next to any quizzes that match the books we have in the collection.
AR Home Connect
Reading well is a critical skill. Using the AR Enterprise Program will give parents an opportunity to foster independent reading habits.  Parents may access Renaissance Home Connect with this web address and the same login and password that your child uses at school to log into AR.

Great Stone Face Book Award
Every year our 5th & 6th Graders take part in the selection of the Great Stone Face Book Award winner by voting in April for their favorite book out of twenty-five candidates of recently published books. The award is sponsored by the Children's Librarians of New Hampshire who select the titles based on their quality and diversity for New Hampshire students in 4th through 6th grade to vote on. All of these books are at appropriate reading levels for 5th & 6th Grade, and all are on our school's Accelerated Reader list.
http://chilis.nhlibrarians.org/gsf/
Isinglass Teen Read Book Award
This year our 7th & 8th graders get to pick their favorite book too! The Isinglass Award allows New Hampshire students  in 7th & 8th grades to let the world know which one of the twenty titles selected by other students their age is a "must read". Voting takes place in April. This Barrington Public Library web page has this year's candidates, their book covers and a short description to help you decide which ones to read:
http://home.metrocast.net/~blibrary/teenindex.htm

Children's Book Council
This site features a bimonthly showcase which contains an annotated bibliography of books organized by themes such as cooking, holidays, poetry, etc. It also offers information on authors, illustrators, publishers, etc.
www.cbcbooks.org
EBSCO Host NoveList K-8
This ficton guide database allows for a "quick search" by author, title, series, and keyword. Results can be further searched to obtain summaries and reviews of the books.
http://search.ebscohost.com